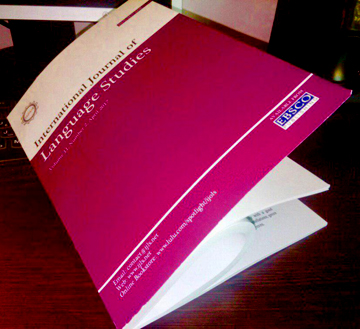 International Journal of Language Studies
A Quarterly Journal of Applied Linguistics
ISSN: 2157-4898 | eISSN: 2157-4901
Sherpa/RoMEO Color: Yellow
Editor: Mohammad A. Salmani Nodoushan
Impact Factor (IF): NA
Five-Year Impact Factor: NA
Source Normalized Impact per Paper (SNIP): NA
SCImago Journal Rank (SJR): NA
This journal is peer reviewed and indexed in: SCOPUS, ERA, IBZ, IBR & more
Frequently Asked Questions (FAQ)
Fees
1) Is there any author fee?
No; authors pay no fees.
2) Is there any publication fee?
No, if you accept our publication policy. Negotiable, if you prefer to make your content Open Access.
Publication management
1) How long do I have to wait for my manuscript to be processed?
At least between 4 to 6 months. This depends on how many trustworthy reviewers are out there, and also on how fast they handle their review assignments. We do NOT push reviewers to expedite the review task since this may have unwanted effects on review outcomes.
2) Does my manuscript get published as soon as it is accepted?
We will make the bibliographical details of your accepted manuscripts available HERE, but you will have to wait for the page proofs to be produced and sent to you for a final check.
3) Do I receive off-prints of print copies of my published papers?
No; you will only receive a PDF copy of your published paper, but you can place orders HERE to buy print copies.
4) Do I have to cite papers published in the back issues of IJLS in my own manuscript? Does it affect the fate of my submission?
No; we do not force authors to cite papers published in the back issues of IJLS, but we strongly recommend that prospective authors see if any of the papers published in the back issues of IJLS has any important direct bearing on the topic covered by their submissions, and cite it ONLY IF it is directly relevant in an important way; it is for you to decide.
Publication Ethics
1) What do you mean by plagiarism?
Direct copying of materials from other people/sources without appropriately mentioning the source. 7-plus consecutive words directly taken from other sources/authors without appropriate parenthetical citations and enclosure within quotation marks are normally considered as acts of plagiarism.
2) What do you mean by fraud?
Any content that is not genuinely scientific.
3) What do you mean by double/parallel submission?
Submitting the same material to more than one journal or venue simultaneously; submissions should be made to ONLY one journal at a time, and you CANNOT submit your work to more than one journal simultaneously. You should wait for a final decision from IJLS, and then submit your work another journal IF and ONLY IF your work has been rejected by IJLS or you have withdrawn your submission.
4) What do you mean by self-plagiarism?
Direct copying of content from your own previous publications and pasting it in the submission you make to IJLS without appropriate parenthetical citations--and, if direct, enclosure within quotation marks. All in all, you may cite only less than 25% of a previously published work of your own, and this must be limited to the 'literature' section or to connecting the works in the 'discussion' section of your submission to IJLS.
5) Does anything happen to me if I am flagged as an unethical author?
Absolutely; your published work, if plagiarized, will be retracted (see examples HERE and HERE), and you will get black-listed and will be denied future publication opportunities (for at least 5 years--or for ever depending on the importance of your dishonest act).
Legal Issues
1) Which organization should I name as my affiliation?
This is a tricky issue. By default, graduate students in many countries are not considered as affiliated members of the organizations in which they are being educated. Moreover, some prospective authors may have planned to start their graduate studies in near future--but have not started yet. In cases like these, naming such organizations as your affiliation can create legal issues and troubles for the journal. Please check with your organization management and provide formal written documents in your submission package to help us guard the journal against unnecessary legal troubles.
2) What happens if my co-authors raise cases after our co-authored paper is published?
As the corresponding author, you are liable for all the possible/probable legal aftermath.