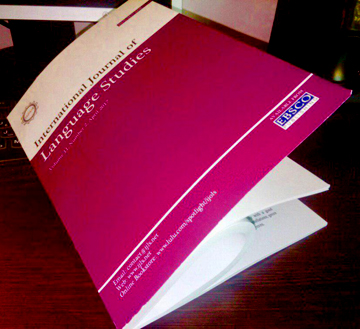 International Journal of Language Studies
A Quarterly Journal of Applied Linguistics
ISSN: 2157-4898 | eISSN: 2157-4901
Sherpa/RoMEO Color: Yellow
Editor: Mohammad A. Salmani Nodoushan
Impact Factor (IF): NA
Five-Year Impact Factor: NA
Source Normalized Impact per Paper (SNIP): NA
SCImago Journal Rank (SJR): NA
This journal is peer reviewed and indexed in: ERA, LB, IBZ, LLBA & more
July 2010 - Volume 4 issue 3 - Pages 1-92
The utopian/dystopian view of ELT at undergraduate level: An attitudinal analysis
, Islamic Azad University at Chaloos, Iran
, Islamic Azad University at Chaloos, Iran
Volume 4 issue 3 - July 2010 - pp. 1-26 Add Print to Cart | Download PDF
To measure the effect of university students' attitude on their academic achievement, a sample of 570 students majoring in different fields in humanities in three Islamic Azad University branches in Western Mazandaran were selected from a population of about 12000 students through random cluster sampling method. The literature for this descriptive study was prepared through library study. Then a questionnaire was designed and validated by referees' judgments with a Cronbach's Alpha of .81. Descriptive and inferential statistical methods were used to report and interpret data. To display the relations between the variables, a path analysis diagram was used. The results obtained from different statistical operations using SPSS showed significant differences between the students' attitude and some of the variables.
KEYWORDS: Attitude; Academic Achievement; Mastery Level; Interest; Positive Evaluation; Others' Expectations
English teachers' attitudes toward computer-assisted language learning
, Tarbiat Modares University, Iran
This author's papers were retracted from IJLS on July 02, 2014
On July 02, 2014 we were informed that this author had blatantly plagiarized parts of a paper co-authored by Professors David A. Huffaker and Sandra L. Calvert (published in the Journal of Computer-Mediated Communication(JCMC)--Volume 10, Number 2). Since IJLS places great importance on the academic integrity of the papers it publishes, both of the two papers this author had published in IJLS were retracted from the journal on July 02, 2014.
(Date comment added: July 02, 2014)
Communication purposes and strategies in email communication: A contrastive analysis between Iranian and American students
, Tarbiat Modares University, Iran
, Tarbiat Modares University, Iran
, Tarbiat Modares University, Iran
Volume 4 issue 3 - July 2010 - pp. 55-72 Add Print to Cart | Download PDF
The development and the spread of communication technology especially with the invention of the internet have recently promoted the use of email epistolary as an interpersonal medium of communication. The use of email as a medium of communication has begun to receive a great deal of attention. As a matter of fact pen and paper letters are being replaced by electronic mails. However, this interest has not been matched by sufficient research and theory. Drawing on discourse analysis approaches this study investigated the application of email as a new medium of communication by Iranian and American TEFL students in academic settings. Two email sample corpora sent to their instructors by American and Iranian students were analyzed at two levels, namely at message purpose and communication strategy levels. Based on the purposes for which emails were written, the messages were classified into three major categories (course related, personal and relational, and other emails).Also, Communication strategies were classified into four categories (requests, providing history, making suggestion, and miscellaneous strategies). The results indicated some differences in American and Iranian students' email purposes and strategies, suggesting that American students demonstrate more cases of personal and social messages as well as applying more communication strategies in their emails. However, it was indicated that Iranian students use more greetings and closing protocols in their emails.
KEYWORDS: Email Communication; contrastive Analysis; discourse analysis; Communication strategies; Iranian and American Students
Evaluating the effectiveness of a complimentary approach to teaching writing skills
, Universidad Nacional de Mar del Plata, Argentina
Volume 4 issue 3 - July 2010 - pp. 73-92 Add Print to Cart | Download PDF
This paper reports the design, instrumentation and evaluation of effectiveness of a case study in which a teacher of English, at a private middle school in Argentina, carried out a writing project with 26 students aged 13-14. This project consisted in the implementation of a complimentary mode of teaching writing skills that conflated both the process and the genre approaches. Data were gathered through teacher and student's interviews, class observation and students' portfolios. The analysis and interpretation of the findings obtained showed that this eclectic approach to the teaching and learning of writing skills is more beneficial than traditional approaches. Some avenues for further investigation in the area were finally suggested.
KEYWORDS: Writing; Teaching; Evaluation; Case study