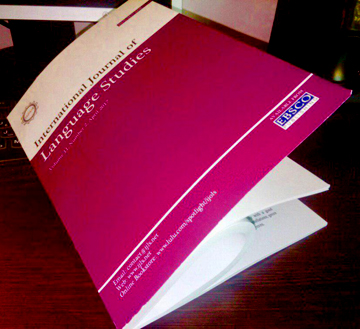 International Journal of Language Studies
A Quarterly Journal of Applied Linguistics
ISSN: 2157-4898 | eISSN: 2157-4901
Sherpa/RoMEO Color: Yellow
Editor: Mohammad A. Salmani Nodoushan
Impact Factor (IF): NA
Five-Year Impact Factor: NA
Source Normalized Impact per Paper (SNIP): NA
SCImago Journal Rank (SJR): NA
This journal is peer reviewed and indexed in: ERA, LB, IBZ, LLBA & more
April 2010 - Volume 4 issue 2 - Pages 1-62
Cohesive devices in students' IELTS writing tasks
, University of Tehran, Kish International Campus, Iran
Volume 4 issue 2 - April 2010 - pp. 1-8 Add Print to Cart | Download PDF
The purpose of this study is to determine if training courses in writing can cause a change in the learners' use of cohesion in their writing. 68 participants (32 male, 36 female) wrote two compositions on only one topic with a two-month interval (i.e., pre-test and post-test). In the mean time, they received overt instruction on cohesive ties (specifically on the use of reference, reiteration, synonyms, and superordinate words in their writing. Frequencies were counted and changed into percentages. Paired-samples t-tests were conducted. Results after analysis of the data indicated that overt instruction is a predictor of success in the use of cohesive ties in IELTS writing tasks. The greatest improvement was observed in the use of reference and superordinate words.
KEYWORDS: IELTS; Writing Tasks; Cohesion; Reference; Reiteration; Superordinates; Synonym
Grammatical tense in Laki Nurabadi Dialect: A dichotomous tense structure
, Shahid Beheshti University, Iran
, Shahid Beheshti University, Iran
Volume 4 issue 2 - April 2010 - pp. 9-28 Add Print to Cart | Download PDF
The present research accounts for the characteristic tense patterns of the verbal system in Laki Nurabadi dialect, in comparison to Farsi language. The study takes the following course of progress. It consists of an analysis of a set of related phenomena within the sample, including a brief introduction to the dialect position in Iranian language family, together with a survey of structural analyses within it. The paper presents the dialectal conjugation verb patterns in a dichotomous fashion of the major categories of past/non-past forms, compared to the triple past/future/present classification of Farsi. The analysis of the past forms, accordingly, includes: past simple, past continuous, past and present perfect; as well as, subjunctive and progressive forms. The non-past analysis, additionally, describes: present indicative, present subjunctive, and present progressive forms.
KEYWORDS: Laki Nurabadi (N.Laki) dialect; Northwestern Iranian language family; Dichotomous categorization; Verb structure; Past forms; Non-past forms
Gender, identity, and language Use: A case of Tehrani teenage bloggers' virtual speech community
, Tarbiat Modares University, Iran
Volume 4 issue 2 - April 2010 - pp. 29-48
This paper was retracted from IJLS on July 02, 2014
It would be truly regrettable to learn that parts of this article had been blatantly plagiarized from a work done by Professors David A. Huffaker and Sandra L. Calvert published in Journal of Computer-Mediated Communication (JCMC)--volume 10, number 2. This was certainly NOT known to the IJLS team at the time of the article's publication. IJLS places great importance on the academic integrity of the papers it publishes. This paper was retracted from IJLS on July 02, 2014.
(Date comment added: July 02, 2014)
SLA research in postmethod era: Neglects, misunderstandings, and alternatives
, Tarbiat Modares University, Iran
Volume 4 issue 2 - April 2010 - pp. 49-62 Add Print to Cart | Download PDF
Much of the recent literature in the field of SLA research has a primary reliance on experimental design and quantitative analysis. Since SLA is so complex and multidimensional a phenomenon, it is difficult to study in an unnatural experimental design. In such a setting, some of the variables that affect the very nature of language learning may be missed or eliminated within experimental design. Furthermore, the complexity and elusiveness of SLA often make it difficult to formulate the appropriate questions or to identify the relevant variables. At the same time, the profession is becoming more socially responsive and more politically involved, and the facts that language pedagogy is context sensitive, and it is not just about cognitive factors have been well documented. These new developments are in contrast with some concepts such as objectivity, generalizability and idealization that we have in our research orientation. The purpose of this paper is to show that research orientation in SLA does not match with the new developments that we have had in the profession, and to shed more light on the core assumptions underlying qualitative research, proposing it as an alternative and a more relevant way of doing research in SLA.
KEYWORDS: Qualitative research; quantitative analysis; SLA; SLA research