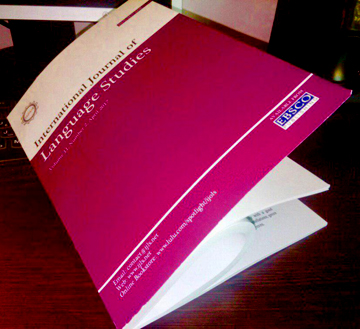 International Journal of Language Studies
A Quarterly Journal of Applied Linguistics
ISSN: 2157-4898 | eISSN: 2157-4901
Sherpa/RoMEO Color: Yellow
Editor: Mohammad A. Salmani Nodoushan
Impact Factor (IF): NA
Five-Year Impact Factor: NA
Source Normalized Impact per Paper (SNIP): NA
SCImago Journal Rank (SJR): NA
This journal is peer reviewed and indexed in: ERA, LB, IBZ, LLBA & more
July 2009 - Volume 3 issue 3 - Pages 249-408
Politeness strategies in the English interlanguage requests of Yemeni learners
Volume 3 issue 3 - July 2009 - pp. 249-266 | Download PDF
This study attempts empirically to investigate the ways in which Yemeni learners realize requests in their English interlanguage with special reference to politeness strategies as patterned by Brown and Levinson (1987). The main objective of this paper is to investigate the strategies of requests and politeness phenomenon in the production of request speech act by Yemeni learners of English as a foreign language. It is based on the analysis of the elicited responses given to 314 subjects belonging to the departments of English in four colleges of two public Yemeni universities. The data collected through written questionnaire based on Blum-Kulka (1983, 1984) with some modifications. The corpus obtained consists of 1256 valid corpus. Each of the valid responses was analyzed separately to identify the type of strategies used. The study is of a descriptive nature, frequencies, percentages and the means of these percentages are used. The main aim is to find out the politeness strategies used and the frequency of their use. The main findings of the study revealed that the target subjects intended to use conventional indirectness strategies with constant tendency to use query preparatory request strategy accompanying with politeness markers.
Islam and language planning in the Arab world: A case study in Jordan
Volume 3 issue 3 - July 2009 - pp. 267-302 | Download PDF
The present study is an attempt to investigate the attitudes of Jordanian university students towards language planning in Jordan. It aims at identifying the status and the use of Arabic and English in Jordan. An attitudinal questionnaire was developed and distributed to assess the attitudes towards language planning in Jordan. The sample consisted of 400 respondents, all undergraduates of English at four Jordanian universities: Yarmouk University, Jordan University of Science and Technology, Hashemite University and Al-alBayt University. The findings of the study prove that language planning is ideologized. Arabic is associated with the religious ideology of Islam. Further, with the increasing use of English in Jordan, English constitutes a threat to Arabic in various domains in Jordan i.e. it competes with Arabic at the level of usage. Moreover, learning English is neither an indication of Westernization nor an indication and imitation of or assimilation to Western values. In addition, defending Arabic is not a claim of nationalism or culturalism, but in fact defending the language of Islam and its civilization. The study proves that Jordanians view English the language of the future, a language which its mastery would open wide the opportunities of education, business and trade. However, these attitudes do not negate the role of Arabic as an effective tool of daily communication, media, and education. Nor do they negate the role of Arabic as the language of the great Islamic Arabic civilization.
Challenges facing the implementation of 2002 secondary Kiswahili curriculum in Kenya
Volume 3 issue 3 - July 2009 - pp. 303-316 | Download PDF
There are various phases (e.g., diagnosis, planning, implementation, stabilization and evaluation) involved in the process of curriculum development. This paper concerns itself majorly with the implementation stage of curriculum development with specific reference to the '2002 Secondary Kiswahili Curriculum in Kenya' (henceforth 2002 SKC). It investigates challenges facing the curriculum implementation of the 2002 SKC since it started to be implemented in 2003. It focuses on teachers, students, learning resources, time allocation among other factors that play crucial role as far as curriculum implementation is concerned. The paper gives various suggestions and recommendations on how to overcome such problems, difficulties and weaknesses in future revision of SKC. The recommendations are meant to improve the highlighted shortcomings of the 2002 SKC. The paper reveals that Kiswahili teachers were not adequately prepared professionally to implement the 2002 SKC. The teachers encountered numerous problems and difficulties in their attempt to implement the 2002 SKS especially the integrated approach to the teaching of Kiswahili language and literature. The paper offers suggestions and proposes recommendations to the Ministry of Education, Kenya Institute of Education among other stakeholders for future design, implementation and evaluation of Kiswahili curriculum at the secondary level in Kenya.
Listening skill teaching: Some pedagogical considerations
Volume 3 issue 3 - July 2009 - pp. 317-344 | Download PDF
The purpose of this teaching article is to explore those factors that seem to have a pedagogical effect on successful L2 listening comprehension. To do this, a small-scale listening comprehension project was carried out in 2006 with a group of forty student teachers--whose first language was Spanish--attending an English Language course at a Teacher Training Program, Corrientes, Argentina. In this project, data were drawn from students' interviews and questionnaires before and after instruction which were, later on, critically analysed and interpreted. The results emerging from this project showed the importance and usefulness that should be given to the convergence of listening skill teaching with affective and environmental factors, pronunciation, and listening materials if L2 learners are meant to overcome recurrent difficulties in comprehending oral discourse. In the light of these findings, some future directions for research in this area were suggested.
Towards a re-definition of Cameroon pidgin
Volume 3 issue 3 - July 2009 - pp. 345-358 | Download PDF
Negative attitudes towards Cameroon Pidgin portray this language as an inferior and broken language that needs to be discouraged (see Kouega's 2001 survey and Alobwede D'Epie's 1998 report on attitudes of Cameroonians towards this language). Some scholars even consider it as the basilectal variety of Cameroon English (see, for instance, Ubanako 2008). Instead of perceiving the language as the basilectal variety of Cameroon English that lacks a well-defined structure, this paper demonstrates that it is an independent and rule-governed language, like any other language, with lexico-morphological and syntactic peculiarities that are significantly different from those of English. It is recommended that, instead of treating Cameroon Pidgin as a "structureless" and deficient variety of Cameroon English, it should be perceived as a rule-governed independent language that displays significant lexico-morphological and syntactic peculiarities that are different from those of English.
An experimental inquiry into the application of rules of grammar
Volume 3 issue 3 - July 2009 - pp. 359-366 | Download PDF
This study is carried out to investigate to what extent second language performers appeal to consciously learned grammatical rules while doing grammar exercises. The participants had considerable exposure to rules of grammar and clearly had analytical intelligence to remember complex rules. The data, collected through a grammar test and a questionnaire, revealed that the subjects did not take conscious efforts to use rules. Instead, they used the subconsciously acquired grammatical competence.
A syntactic analysis of the Acehnese phrase structure: The application of Chomsky's Government and Binding Theory
Volume 3 issue 3 - July 2009 - pp. 367-408 | Download PDF
The aim of this study is to analyze the phrase structure rules of the Acehnese language using the Government and Binding Theory. It attempts to describe Acehnese sentence transformations and to examine whether this model is applicable to Acehnese phrase structures, and if not what its constraints and modifications are. The analysis focuses on the phrase markers or tree diagrams of grammatical and well-formed Acehnese noun phrases (NPs) and verb phrases (VPs). The method of analysis is based on the one proposed by Haegeman in Introduction to Government & Binding Theory (1994). Most sample test sentences were taken from A Contextual Grammar of Acehnese (Asyik, 1987). The findings show that the syntactic structure of English and Acehnese can adopt the projection schema, the X'-format that has been developed for all phrasal categories. However, the analysis shows that the linear order of constituents with respect to the head projection is not universally fixed. In general, the structures of Acehnese phrases are similar to that of English except that they contain more elements in a phrase structure. Acehnese differs significantly from English and other languages in that it does not have number and tense agreement, adjectives are post-position and there is pro-drop or null-subject.