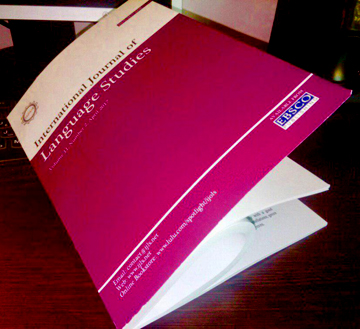 International Journal of Language Studies
A Quarterly Journal of Applied Linguistics
ISSN: 2157-4898 | eISSN: 2157-4901
Sherpa/RoMEO Color: Yellow
Editor: Mohammad A. Salmani Nodoushan
Impact Factor (IF): NA
Five-Year Impact Factor: NA
Source Normalized Impact per Paper (SNIP): NA
SCImago Journal Rank (SJR): NA
This journal is peer reviewed and indexed in: ERA, LB, IBZ, LLBA & more
October 2008 - Volume 2 issue 4 - Pages 387-512
New research directions for the cognitive approach to task
Volume 2 issue 4 - October 2008 - pp. 387-399 | Download PDF
This article presents the cognitive framework of L2 language-processing whose primary aim is to investigate cognitive patterns in learners' written / oral input and output. The adoption of information-processing by L2 researchers since the 1990s (e.g. McLaughlin, 1990; Skehan, 1996) has been tightly associated with the then emerging task-based approach, namely through the synergy between task characteristics, cognitive resources, and performance measures. To date, such synergy has been prolific seeing its sizeable contribution to the growing body of SLA theory and its promising insight into how teachers may envision instructional events, particularly speaking events, that will activate the processes underlying language learning. In addition to reviewing core processing concepts (i.e. attention, memory and controlled-versus-automatic processing), this paper discusses the limitations of the information-processing approach. It also calls further research avenues that probe the strength of relationship between mental processing and interlanguage development as well as individual differences.
Learning complex verb phrases using a parallel corpus
Volume 2 issue 4 - October 2008 - pp. 399-416 | Download PDF
Research on corpora and their potentials for different areas of language learning have been gaining more attention in recent years. Although the use of corpora in language learning and teaching is not new, what is novel in the present study is that it demonstrates for the first time the potential of a bilingual corpus in learning both grammar and translation. The paper tries first to outline different types of corpora and concordancers, and then concentrate specifically on the application of English-Persian parallel corpus in learning the most probable translations of complex English verb phrases having no equivalent in Persian. It is interesting to see what solutions the parallel corpus would actually provide in such occasions. An experiment in this direction reveals that using parallel corpus in translation will improve the learners' performance at least up to 45 percent. The last part of the paper discusses the various applications of such corpora in different areas of language studies.
Formalist (Linguistic) criticism in an English language teacher education program: The reward approach
Volume 2 issue 4 - October 2008 - pp. 417-430 | Download PDF
The place of literary criticism in the education of pre-service English language teachers in EFL contexts is rarely discussed in the related literature. Traditional view of teaching criticism involves learning of the tenets of the critical school and applying them to literary texts. In this paper, an application of teaching criticism is discussed with examples from classroom tasks and procedures. Constructed by the researcher, the 'Reward' approach stands for reading, elicitation, writing, articulating, representational study, and discussion. In 'Reward', a multidisciplinary approach to reading of a literary text was used by incorporating the study of various visual arts. In this paper, the approach is applied and the evaluation is completed through surveys and qualitative data of students' (n=80) experiences to see how learning formalist criticism affected their literary reading processes, perception, and thinking. The results of this study suggest that the overall appreciation of the students with this approach is high and the students want to learn about literature courses through similar approaches in their future literature courses.
Schema-based textual analysis of domain-controlled authentic texts
Volume 2 issue 4 - October 2008 - pp. 431-446 | Download PDF
This paper reports a textual analysis of 22 authentic and unmodified newspaper and magazine articles dealing with a current political issue within the period of nine months. The analysis was based on schema theory, which divides all the schemata, i.e., words comprising the articles, into three main categories: semantic, syntactic and parasyntactic. It was hypothesized that the very nature of semantic, syntactic and parasyntactic schemata would render the schemata different in terms of their occurrence within texts analyzed. Chi-square tests confirmed the hypothesis and showed that semantic, syntactic, and parasyntactic schemata differ from each other significantly not only in type (X2= 8371.993, df = 2, p < .0001), but also in their subcategorization (X2 = 5866.867, df = 12, p < .0001) and thus endow both schema types and their subsumptions with psychological reality. Further descriptive analyses indicated that semantic schemata make up 77% of the whole text whereas parasyntactic and syntactic schemata accounted for only 17% and 6%, respectively. The pedagogical implications of these findings within foreign language teaching and testing context are discussed.
Lexical bundles and intradisciplinary variation: the case of applied linguistics
Volume 2 issue 4 - October 2008 - pp. 447-484 | Download PDF
This corpus-based study explores frequency, form, and function of a particular group of formulaic expressions: lexical bundles. Lexical bundles are defined as commonly recurrent sequences of word combinations which are often semantically regular, structurally incomplete, and not idiomatic (Biber, et al., 1999). While most previous corpus-based studies of this group of multi-word sequences have been mainly concerned with variations across different disciplines, and registers, this study is looking at possible variations within some written key academic genres of one single discipline of applied linguistics. Lexical bundles within each of the genres are classified structurally as well as functionally using Biber et al. (1999) and Hyland (2008a) respectively. By comparing frequency, form ,and function of these clusters in high-stakes postgraduate genres with research articles, this study shows that not only are there relatively large differences between student genres and research articles in the types of bundles employed, but also there are some striking discrepancies in terms of frequency, and function of four-word lexical bundles.
Some factors affecting English learning at tertiary level
Volume 2 issue 4 - October 2008 - pp. 485-512 | Download PDF
This paper focuses on an applied linguistics study of some factors such as: gender, attitude, motivation, and anxiety in second language learning. These are also responsible for individual differences in learning a second (L2). In social psychology, it is a widely accepted fact that learner's individual differences have significant impact on the learner's overall L2 performance. That is why the major focus of the recent research in social psychology has been on various social psychological variables like, attitude, motivation, age, aptitude, anxiety, intelligence etc, and their impact on Second Language Acquisition (SLA).Gardner (1985) proposes that second language acquisition is 'truly a socio-psychological phenomenon. It is concerned with the development of communication skills between an individual and members of another cultural community. For this study 408 students were taken as samples (270 boys and 138grils) from five engineering colleges in and around Chennai, India. As result I found that female students have higher/positive motivations and attitudes towards learning English as a second language than male students. Moreover, female students have less language anxiety than male students.