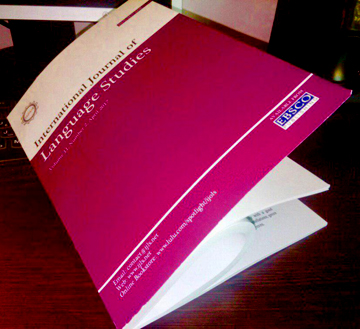 International Journal of Language Studies
A Quarterly Journal of Applied Linguistics
ISSN: 2157-4898 | eISSN: 2157-4901
Sherpa/RoMEO Color: Yellow
Editor: Mohammad A. Salmani Nodoushan
Impact Factor (IF): NA
Five-Year Impact Factor: NA
Source Normalized Impact per Paper (SNIP): NA
SCImago Journal Rank (SJR): NA
This journal is peer reviewed and indexed in: ERA, LB, IBZ, LLBA & more
April 2008 - Volume 2 issue 2 - Pages 147-256
Lamnso' verbal extensions: An overview
Volume 2 issue 2 - April 2008 - PP. 147-172 | Download PDF
Apart from work on verb tone patterns (Grebe and Grebe's, 1975) and transitivity alternations (Yuka, forthcoming), the verbal structure in Lamnso' is virtually unstudied. The Lamnso' verbal system, unlike its noun class system does not readily lend itself to a straightforward analysis. Verbs exhibit an intricate morphology with verbal extensions that can occur with a wide range of radicals. Each combination derives a distinct semantic interpretation. A cursory look at these extensions seems to require a good understanding of verb argument structure and event distribution for adequate interpretation. As a preliminary study, this paper investigates the morpho-semantic denotation of Lamnso' verbal extensions. It illustrates basic changes that apply to the meaning of verbal stems when a given extension is attached. In doing this, verbal extensions that increase the argument structure of verbs are distinguished from those that alter aspect. This paper thus focuses on the contribution of verb meaning and extension meaning to event meaning.
Authenticity within the EIL Paradigm
Volume 2 issue 2 - April 2008 - PP. 173-186 | Download PDF
This article is intended to examine the relevance of authenticity to the expanding context of English as an International Language (EIL). Through two parallel arguments, we arrive at the conclusion that authenticity should be considered cautiously in the EIL context: (1) Within EIL, while conforming to the native speaker norms in phonology and grammar is necessary, extralinguistic elements can be adapted to the EIL situation; and (2) authenticity is a pragmatic factor rather than a textual feature. Authenticity within the EIL paradigm needs to be considered as the pragmatic appropriateness: appropriate and relevant materials to be included in courses which meet the needs of the learners, whose proficiency levels and attitudes are taken into account by material developers; teachers are another aspect with their empowering input and authenticating abilities. In general, authenticity under the shadow of EIL requires the interaction of language, learners, teachers and all contextual factors. While native speakers can contribute to the EIL material development, their norms seem not to be vital for the authentication process. The outcome will be expected to be powerful learners with a good command of English who can manage EIL situations with mutual understanding at cross-cultural levels.
Conversational strategies in Farsi complaints: the case of Iranian complainees
Volume 2 issue 2 - April 2008 - PP. 187-214 | Download PDF
In a study of the effects of complainees' sex, age, perceived situational seriousness, and social class on the use of conversational strategies in their response to complaining behavior of complainers, 465 subjects of varying age, sex, and social class were observed and tape recorded in spontaneous conversation by 25 field workers. The field workers also filled out a checklist that provided the data of the study, which were then input into two nonparametric tests: (a) Mann-Whitney U Test, and (b) Kruskal Wallis H Test. The results of data analysis showed that sex and social class caused the differential use of two conversational strategies whereas perceived situational seriousness caused the differential use of only one strategy. The results also indicated that age resulted in the differential use of none of the conversational strategies in questions.
Question strategies in testing reading comprehension: A comparative study of pre–questioning, post–questioning, and infixing
Volume 2 issue 2 - April 2008 - PP. 215-236 | Download PDF
Reading comprehension tests have always been a difficult area to language learners. This difficulty may partly stem from lack of effective strategies in dealing with reading comprehension questions at an effective time. Therefore, this study aimed at comparing three strategies relevant to reading comprehension questions: Pre-questioning, post-questioning and infixing. To conduct the study, forty-two high-school students were randomly selected. Then nine narrative passages, each three devoted to one strategy, formed the materials. Time was also carefully measured. Students met three sessions with a time span of eight days between each two sessions, and each session they were given three passages at random. Following the test, the researchers conducted an unstructured interview with the students and their teachers. Results proved that infixing questions can lead to better performance in reading comprehension tests. The study can bear both theoretical and practical implications in teaching and testing reading comprehension.
Language planning for the Malay language in Malaysia since independence
Volume 2 issue 2 - April 2008 - PP. 237-248 | Download PDF
Language planning consists of corpus planning and status planning. Many post-colonial nations have undertaken some sort of language planning to ensure their national or official language is capable of meeting the challenges of the modern world. Malaysia is no exception. It has taken many steps to plan its national language, Malay, since independence. This paper attempts to look at these steps and fit them in Haugen's Revised Model for language planning. Using this model it was discovered that Malay went through the stages of Selection, Codification, Implementation and Elaboration since independence in 1957 until today but in no certain order. Language planning for Malay was not done in vacuum but was responsive to the political, economic and social climate of the nation as seen in the two phases of Nationalism and Pragmatism. Malaysia has also had to make concessions for English to access knowledge and to connect with the world. This calls for rethinking the roles of both Malay and English in Malaysia so both languages are used for the nation's benefit.
Acquisition of grammar through comprehensible input versus explicit instruction
Volume 2 issue 2 - April 2008 - PP. 249-256 | Download PDF
This paper examines the significance of acquired grammar through comprehensible input and the value of learned grammar through explicit instruction. Acquisition of grammar through listening and reading will enable learners to apply it intuitively in the actual language use without paying conscious attention to forms of the language. Learning grammar through explicit instruction will take up massive amounts of students' time and mental energy and they may not be able to apply the learned rules in the actual performance. The data, collected through a test on grammar and through discussions, revealed that performance of the learners in the test was on a par with their exposure to aural and written input and their acquired competence. Therefore, it is suggested that if the time spend on learning conscious rules is used for acquiring language through input, learners can acquire a great deal of language and they can incidentally acquire grammar while they are exposed to repetitive comprehensible input.