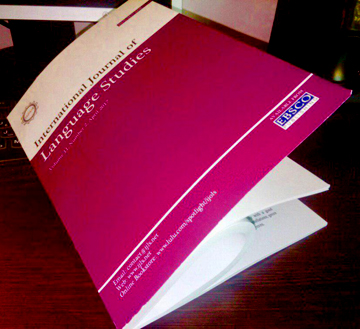 International Journal of Language Studies
A Quarterly Journal of Applied Linguistics
ISSN: 2157-4898 | eISSN: 2157-4901
Sherpa/RoMEO Color: Yellow
Editor: Mohammad A. Salmani Nodoushan
Impact Factor (IF): NA
Five-Year Impact Factor: NA
Source Normalized Impact per Paper (SNIP): NA
SCImago Journal Rank (SJR): NA
This journal is peer reviewed and indexed in: ERA, LB, IBZ, LLBA & more
January 2008 - Volume 2 issue 1 - Pages 1 - 146
The Implementation of Process writing: Writing-teacher roles
Volume 2 issue 1- January 2008 - pp. 1-18 | Download PDF
L1 or L2 writing classrooms are regretfully reported to have been undergoing a frustrating experience in developing student-writers' abilities. This is basically due to the fact that a historic paradigm shift; as that of from product to process writing, has not yet practically occurred in L1/L2 writing pedagogy. In fact, a depressing case as such is readily recognized to be stemming from writing teachers deprived of systematic orientations with the design of such an innovative trend. Writing teachers, to actualize their prospective expectations in this regard, are distinguished to urgently require rich and full acquaintance with process teachers' labeled roles. This study is accordingly conducted to help writing teachers comprehensively conceive and smoothly emulate the indexed roles justifiably allocated for process writing teachers to actualize in the act of teaching writing. Consequently, the teaching/learning writing contexts are expected to successfully celebrate witnessing process oriented teachers sincerely abiding by their process roles and enthusiastically implementing genuine process procedures; thus helping their student-writers to eventually undergo experiencing the skill of writing as a meaning making event.
All that glitters is not gold: Curriculum alignment and improving students' test scores
Volume 2 issue 1 - January 2008 - pp. 19-40 | Download PDF
Due to the centralized educational system in Iran, high school principals have directed English teachers to raise their students' achievement test scores so that they will look good on their school report card. Test scores provide the only benchmark against which the students' progress at school can be measured. Although according to the regulations teachers have to add the oral and written exam scores, and record their combination divided by two on the final report card, they usually rate their students' oral ability based on their performance on the written exam. In this study the report card average score of 47 students in grades one, two, and three at the Iranian senior high school in Kuala Lumpur was compared with that of the newly developed oral and written exam. The report card average score of the three classes was 16.37 out of 20 in comparison to the recent average score of 11.58 out of 20 which is based on the combination of the scores gained from the newly developed oral and written exam. The difference between the report card average and the recent exam average was 4.79 scores, which seems to be due to the exclusion of the oral exam scores by some teachers. The information gained from the focus group interview revealed that most teachers rated their students based on their written performance and neglected the oral exams. This may in part reflect a problem with the instruction in which the teachers teach to the test.
Learning English through short stories
Volume 2 issue 1 - January 2008 - pp. 41-72 | Download PDF
Today EFL students comprise a great part of the college population. In order to attain their academic goals, these students need to improve their second language proficiency in the four basic skills, i.e. listening, speaking, reading and writing. Teachers of college level EFL students are faced daily with maximizing students' progress in these skills and at the same time, with keeping students interested and motivated in their lessons. How we as teachers use and feel about the language has a significant effect upon our students' abilities to learn. Language experience takes advantage of students' interests and knowledge and facilitates the comprehension of the language within the context and also acts as a facilitator of language acquisition. To study the positive 'effects of the narrative text genre over a non-narrative (expository) text genre in reading comprehension' at the intermediate level of language acquisition, a study was conducted at The Islamic Azad University, Maybod Branch (Yazd). About 200 students from two levels of language proficiency participated in this study (freshmen and sophomores). Drawing upon the importance of text choice and studying literature in SLA the results of the study showed that the narrative text genre and language proficiency level were influencing factors in not only improving the participants reading comprehension but also somehow helped the students to acquire native like competence necessary for communication.
The Effect of Blogging on Language Learners' Improvement in Social Interactions and Writing Proficiency
Volume 2 issue 1- January 2008 - pp. 73-88 | Download PDF
Weblog, as a new opportunity for people to express their thoughts using Internet facilities, is gaining universal impetus among scholars and educators. In the process of blogging, learners become involved in commenting and reflecting on diverse topics and ideas. This opportunity paves the way for learners of English as a foreign language to improve their writing proficiency. The main questions generated from this study are intertwined with the students' social interaction in class community and foreign weblogs. There are 60 participates in the present study who took part in the class community weblog, Cyberdiscovery, conducted at the Medical School of the University of Tehran. The data was collected by the researchers in a period of one academic year whie observing the class community weblog using several means including observation, questionnaire, interview and IELTS writing proficiency test. This study verifies that blogging is a meaningful medium which can improve the students' social interaction towards the class community weblog and also promote creativity in writing.
A cognitively-based exploration of language-switching (L-S) in the writing performance of Iranian EFL learners
Volume 2 issue 1 - January 2008 - pp. 89-114 | Download PDF
This study sought to investigate the patterns of and possible reasons for Language-Switching (L-S) behavior of Iranian EFL learners engaged in L2 composing task. The findings revealed that the subjects needed to switch to their L1 in order to: 1) generate ideas, 2) search for L2 equivalent, 3) revise and correct errors, 4) plan the task, 5) establish the coherence of ideas, and 6) confirm lexical meaning. The results also demonstrated the participants switched to their L1 for the following reasons: 1) Linguistic deficiency, 2) Overload of memory and 3) Ease with native language. The results indicate that encoding certain non-linguistic feelings or experiential mental images is cognitively demanding and would need to be accessed via L1 (the stronger language of a bilingual person).
Greet with the same or render a better greeting: Some translational discourse of Gulf-Arabic greetings
Volume 2 issue 1 - January 2008 - pp. 115-146 | Download PDF
Very little is known about the translation or the terminology of the spoken discourse of Gulf Arabic, though; the region has recently gained unprecedented strategic importance. This study explores the linguistic expressions, which are part of the discoursal conventions of Gulf-Arabic discourse community that are recognized by their communicative effects within culturally ritualized use. In particular, the study concerns itself with the way in which the Gulf-Arabic formulaic expressions of greetings and politeness are treated in a contemporary bilingual dictionary on the dialect. The examination focuses on five categories of greeting rituals; initiation of social encounter; concern about wellbeing, health and state of affairs of others; temporal greetings; polite requests and thanking; and closings and farewells. The findings suggest that greeting rituals have to be independently treated, and their dictionary listing must be supplemented with; (1) explanatory definition; (2) actual articulation; (3) adjacency pairs; (4) authentic context; (5) etymology; and (6) cross-reference to the related entries. The study concludes acknowledging that a single-author glossary is not necessarily bad, but it is too short to produce an adequate description of socio-culturally oriented expressions, such as greeting rituals.