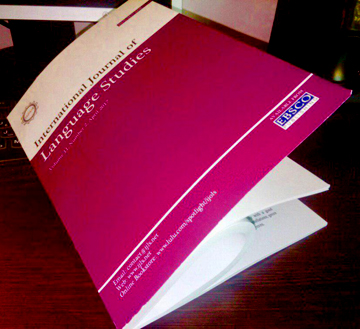 International Journal of Language Studies
A Quarterly Journal of Applied Linguistics
ISSN: 2157-4898 | eISSN: 2157-4901
Sherpa/RoMEO Color: Yellow
Editor: Mohammad A. Salmani Nodoushan
Impact Factor (IF): NA
Five-Year Impact Factor: NA
Source Normalized Impact per Paper (SNIP): NA
SCImago Journal Rank (SJR): NA
This journal is peer reviewed and indexed in: ERA, LB, IBZ, LLBA & more
October 2007 - Volume 1 issue 4 - Pages 227-300
Monitoring the implementation of the reformulation technique in the EFL writing class: A case study in Argentina
Volume 1 issue 4 - October 2007 - pp. 227-248 | Download PDF
This case study sets out to evaluate the effectiveness of the implementation of the reformulation technique in the L2 writing class at the public institute of Foreign Languages and Arts Josefina Contte, Corrientes, Argentina. The participants of this study were 18 students whose ages ranged from 16 to 18. Their level of English language competence at the time this project was carried out was pre-intermediate. After this writing project was implemented, all the students' written assignments were critically analysed and interpreted in the light of the current literature on L2 writing skill teaching. For reasons of practicality and space, the analysis of only 5 of these written samples will be shown in this study. The final results obtained revealed that the use of the reformulation technique in the writing class helped these students make significant linguistic changes in their L2 written productions. After interpreting these findings some recommendations for further research in this area were given.
Web-based English language teaching: Preconceptions from university teachers in Iran
Volume 1 issue 4 - October 2007 - pp. 249-266 | Download PDF
Web-based education is a young issue in most developing countries and there are debates on its application into language teaching or complementing the traditional system with virtual learning and teaching. One of the major obstacles on the implementation of such systems into English Language Teaching (ELT) in Iran, besides other possible barriers, has been the disinclination of the teachers and instructors to adopt ICT as an effective tool in language teaching. This study has been an attempt to explore the attitudes of university English instructors toward web-based ELT. A questionnaire including 25 questions - dealing with issues on ELT - were sent to English language instructors and professors in Iran. It was assumed that ELT professionals with enough experience in teaching and exposure to web-based resources can be of considerable help in revealing, at least, the fundamental concerns. The findings suggest that teachers have positive attitudes toward online learning in general. But academic design, quality of education and whether the program could be implemented with the least possible waste of time, money and energy were of highest concern. However, almost all respondents expressed the pressing need for it. Finally it was concluded that in order to develop successful online ELT programs, valuable guidelines could be obtained from university professors and instructors.
Sentence names in Lamnso'
Volume 1 issue 4 - October 2007 - pp. 267-286 | Download PDF
Though current literature (Chomsky 1986b:2) distinguishes syntactic categories based on feature composition, the idea that the name of a person, place or thing is a noun has persisted. Personal names are structurally NPs, which function as agents or patients in sentences. Such names are understood to be single morphemes with unique meanings. However, our findings indicate that majority of Nso' personal names are sentences rather than basic NPs which have been reduced to lexemes that act as identity tags. Length restriction has constrained some Nso' sentence names to be abridged into phrasal forms. Personal names captured by a lone lexical item are rather rare in Lamnso'. Where a preponderance of lone word names is prevalent they are most likely to have been clipped. This paper identifies linguistic structures in Nso' personal names and relates them to their primary structures and meanings within Lamnso' syntax. The meaning changes that these constituents undergo, as units of personal names are remarkable. These semantic shifts are better understood within the purview of the meaning extensions that make them appropriate as names. The paper employs the basic socio-cultural principles and interpretations guiding the bestowal of Nso' personal names and categorizes the various restrictions that limit the adoption of all well-formed sentences in Lamnso' as personal names. Nso personal names offer clues to the systematic correlation existing between culture and linguistic behavior.
Communication strategies: English language departments in Iran
Volume 1 issue 4 - October 2007 - pp. 287-300 | Download PDF
The notion of communicative competence and more specifically strategic competence is examined in this paper. It also deals with the various definitions of strategic competence, communication strategies and taxonomy of communication strategies. The major part of this paper is devoted to the problems of Persian learners of English in general and English language majors/graduates and the cause of their problems in particular. Then the paper concludes with some general suggestions and the pedagogical implications of communication strategy use.