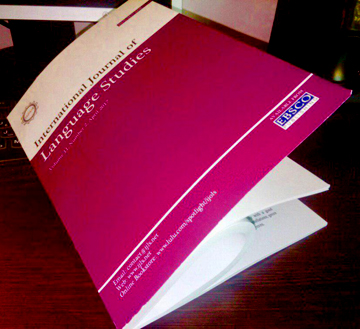 International Journal of Language Studies
A Quarterly Journal of Applied Linguistics
ISSN: 2157-4898 | eISSN: 2157-4901
Sherpa/RoMEO Color: Yellow
Editor: Mohammad A. Salmani Nodoushan
Impact Factor (IF): NA
Five-Year Impact Factor: NA
Source Normalized Impact per Paper (SNIP): NA
SCImago Journal Rank (SJR): NA
This journal is peer reviewed and indexed in: ERA, LB, IBZ, LLBA & more
January 2007 - Volume 1 issue 1 - Pages 1-72
An Investigation on Iranian EFL Learners' Application of Avoidance Strategies in Their Writings
Volume 1 issue 1 - January 2007 - pp. 1-14 | Download PDF
One of the outstanding and the key issues in second language research is the avoidance strategies (Ellis, 1994:68). This article aims to explore avoidance strategies found in the English writing of Persian EFL learners. It is found that that avoidance strategy often takes place at any linguistic level such as lexical and syntactic levels as well as on topic choices as a result of external and internal factors. It seems essential for English teachers to be aware of avoidance phenomenon so as to help their students make proper use of avoidance strategies and reduce their negative effects on English learning.
Using Online Dialogue to Develop Cross-Cultural Understanding
Volume 1 issue 1 - January 2007 - pp. 15-28 | Download PDF
The present study recommends that cross-cultural online dialogue be part of the EFL college classroom in Saudi Arabia. It proposes a model for dialogue skills, cross-cultural themes that can serve as a basis for selecting dialogue topics, print and electronic resources for locating stereotypes and misconceptions about Saudi Arabia, Islamic and Arabic cultures. Examples of online instruction and collaborative and interactive activities; and recommendations for successful dialogue between Saudi and English-speaking-students are given.
Iranian Complainees' Use of Conversational Strategies: A Politeness Study
Volume 1 issue 1 - January 2007 - pp. 29-56 | Download PDF
In a study of the effects of complainees' sex, age, perceived situational seriousness, and social class on the use of conversational strategies in their response to complaining behavior of complainers, 465 subjects of varying age, sex, and social class were observed and tape recorded in spontaneous conversation by 25 field workers. The field workers also filled out a checklist that provided the data of the study, which were then input into two nonparametric tests: (a) Mann-Whitney U Test, and (b) Kruskal Wallis H Test. The results of data analysis showed that sex and social class caused the differential use of two conversational strategies whereas perceived situational seriousness caused the differential use of only one strategy. The results also indicated that age resulted in the differential use of none of the conversational strategies in questions.
How Does Text Cohesion Affect Reading Comprehension?
Volume 1 issue 1 - January 2007 - pp. 57-64 | Download PDF
This paper underscores the effect of text cohesion on EFL reading comprehension. 160 EFL (n=80) and non-EFL (n=80) university students took two versions of a cloze test based on a passage of 750 words length—one developed with every nth word deletion and the other with cohesive word deletion. The results of analyses of variance indicated that text cohesion positively affected text comprehension. Pedagogical implications of the study are discussed.
A Cognitive Approach to Teaching in EFL Writing Classes
Volume 1 issue 1 - January 2007 - pp. 65-72 | Download PDF
The present paper underscores the importance of the cognitive orientation of EFL students in their success in writing courses. A few suggestions are made as to how EFL teachers can put their students on the right cognitive path in their writings.